Things to Consider When Buying a Motorhome
Are you dreaming of endless adventures on the open road? A motorhome might just be the ticket to your next big adventure. With the freedom to travel wherever your heart desires and a home on wheels, owning a motorhome can be an incredibly rewarding experience.
RVSC are motorhome experts and offer a wide range of high-quality new and used motorhomes. With sales and servicing centres in Greater London and Edinburgh, RVSC is one of the UK's leading motorhome retailers and offer vehicles from major manufacturers including Roller Team, Weinsberg and Etrusco.
However, buying a motorhome is a big decision and there are several factors to consider before making a purchase. From determining your needs and budget to researching different types of motorhomes and planning for ongoing maintenance and repairs, there are many important things to keep in mind. By carefully considering these factors, you can find a motorhome that meets your needs and provides a comfortable and enjoyable home on wheels for future adventures.
Don't skip on comfort
Before you start shopping, it's important to define what sort of motorhome you will need. Consider factors such as the number of people who will be travelling with you, the length of your trips, and your budget. This will help you narrow down your options and find a motorhome that's the perfect fit for you.
Research motorhomes
There are many different types of motorhomes available, so it's important to choose the one that's right for you. Consider the size of your family, how much space you need, and what kind of activities you plan to do on your trips.
Larger motorhomes can sleep up to 6 and offer luxurious accommodation with features such as air conditioning, satellite TV, and a generator. Smaller motorhomes which are more manoeuvrable can be a good option for couples or small families and offer a good balance of size and features.
We have a knowledgeable team at RVSC who understand how important research is – a good starting point is our helpful Buyers Guide which can be viewed online or downloaded from here: https://www.rvsupercentre.co.uk/buyers-guide.html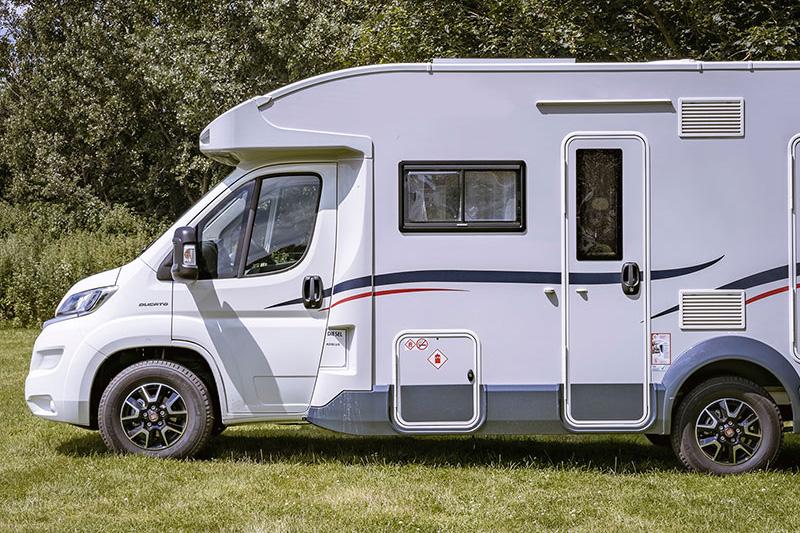 Set a Budget
Motorhomes vary greatly in price, so it's important to set a budget before you start. Consider not only the purchase price but also ongoing costs such as maintenance, fuel, and insurance. At RVSC we can offer several finance options with flexible terms and payments that work for you. Contact our trained staff to discuss a financial proposal and get an instant decision.
New or Used?
There are pros and cons of both new and used purchases. New motorhomes provide peace of mind with warranties and feature the latest technology; these are reflected in the price. However, if cared for, they can be used to offset the cost of another new vehicle in the future.
Used motorhomes are more affordable but may require more maintenance. Before making a purchase, it's important to inspect the motorhome thoroughly. Look for signs of wear and tear, check the engine and tyres, and make sure all systems are in good working order. If you're not comfortable doing this yourself, consider hiring a professional to do it for you.
Legal Requirements
Motorhome regulations vary by region and country. Make sure you know the permits, licences, and safety regulations that apply to your motorhome before you travel. Following these requirements is essential for your safety and peace of mind.
Join a Community
Owning a motorhome can be a wonderful experience, but it can also be overwhelming at times. Joining a community of fellow motorhome owners can provide support, advice, and valuable resources to help you get the most out of your purchase.
Other Practicalities
If you don't have a driveway or garage, you'll need to find a secure and convenient place to store your motorhome. This can add to the cost of ownership, so be sure to factor it in.
Like any vehicle, motorhomes require regular maintenance and repairs. Make sure you budget for these costs and have access to a reputable mechanic who specialises in motorhomes.
Buying a motorhome is a big decision, but it can be a great way to see the world and have unforgettable adventures. Do your research and planning and speak to the experts at RVSC to make sure you're getting the right motorhome for your needs.