Visiting trade shows to choose the best motorhome
At RVSC, we understand that attending a show to buy your perfect motorhome is exciting but sometimes it can be a little daunting too! With that in mind, we've put together some top tips to help you choose the motorhome of your dreams and make sure you feel confident in doing so!
Research & Core Needs
While you're at home, think about what you'd like from your motorhome and what your core needs are. It's best to do some research so that you come to the show with a rough idea of what you're looking for; You can even jot down some notes on your phone or on paper to bring with you to the show so you don't forget what's important to you.
If you're planning to take people away with you regularly, it's important to consider not only the needs of yourself, but also the needs of your friends and family and whether or not what suits you will suit them too. Things such as berth requirements (sleeping capacity), belts, interior furnishings, storage and even the length of the motorhome are all important things to consider when choosing your dream motorhome.
As this is your big investment, ensure that you tick all your boxes first before trying to please others, especially if you're unlikely to travel with more than 2-3 people on a regular basis or you could potentially end up with a motorhome that you feel is far too big and impractical for you to use on a regular basis.
If you have put a lot of thought into your purchase then you will feel confident in talking to a professional about taking advantage of one of our great show deals.
Consider hiring before you buy
If you want a taste of what it's like to own a motorhome then you can hire before you buy! To book visit https://www.justgo.uk.com/ or call 01525 878009 and experience the joy that motorhoming has to offer.
Allow yourself plenty of time
Once you've done your research and established an idea of what you're after, give yourself a whole day or even two to identify the models that you would like to see. Try not to entertain the idea of looking at motorhomes that don't suit your needs or are not within your price range as this could result it the decision making process being harder than it needs to be! Choosing your perfect motorhome is an exciting event so stay focused and don't put yourself under stressful time restraints! It will make your day out far more enjoyable not having put pressure on yourself by not allowing sufficient time to look around and ask questions about the things that are important to you.
Bring supplies
Trade shows are big events, they often cover a very large area and there is plenty of ground to cover and motorhomes to see. Whether it's for the journey or while you're at the showground, having some food and drinks can eliminate the potential stress of having to find somewhere to sit down and replenish your energy levels.
Tour the motorhome and see how it suits your needs
When looking at our motorhomes, consider how different layouts will work for you and your needs. When you are looking through the motorhomes or being given a tour, make sure you look for the things that are complementary to your lifestyle and the needs you have identified above ie storage, facilities, heating systems, seatbelts etc. Seasoned motorhomers know that choosing a motorhome can be a game of compromise so once you have identified your core needs and have narrowed it down to a few models that you're choosing between – think about what you need the most and compromise on the things that you don't.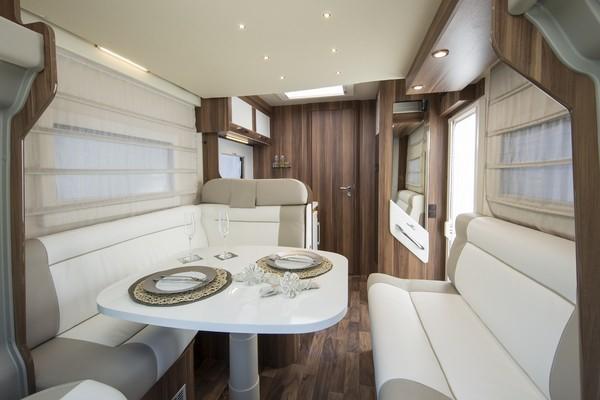 Don't be afraid to ask us
There are plenty of representatives that know about motorhomes at these trade shows, but it's best to find an expert that has both a firm technical knowledge of motorhomes and a good practical experience using motorhomes. This means you know that you're taking advice from someone who genuinely cares about your purchase and can offer you tips and advice on things that you may not even of considered before meeting them. At RVSC, we understand how important it is to choose a model that's the perfect fit for you so we encourage you to ask questions and talk openly about how you plan on using the motorhome. The RVSC motorhome experts are always happy to help and no question is too basic!
Enjoy!
Not only is it a great way to spend a day but it enables you to instantly compare our different models to decide which is the best fit for you, whilst also taking advantage of our show promotions and special offers.
We look forward to helping you find your perfect motorhome at any of the 2019 trade shows listed below!
The National Motorhome & Campervan Show
26-28 April 2019 East of England Showground, Peterborough
The Southern Motorhome Show
17-19 May Newbury Showground, Newbury
The Western Motorhome Show
16-18 August Three Counties Showground, Malvern
The South West Motorhome Show
6-8 September Bath & West Showground, Shepton Mallet
The Motorhome Show, Season Finale
20-22 September Lincolnshire Showground, Lincoln